Posted on 25 Aug, 2017
Whether you're on the fringes of the Tibetan world in Yunnan or Sichuan,
travelling amongst Qinghai's yak herders or heading for Tibet's "big city", Lhasa, make sure that you leave time for the following, our top ten Tibetan experiences…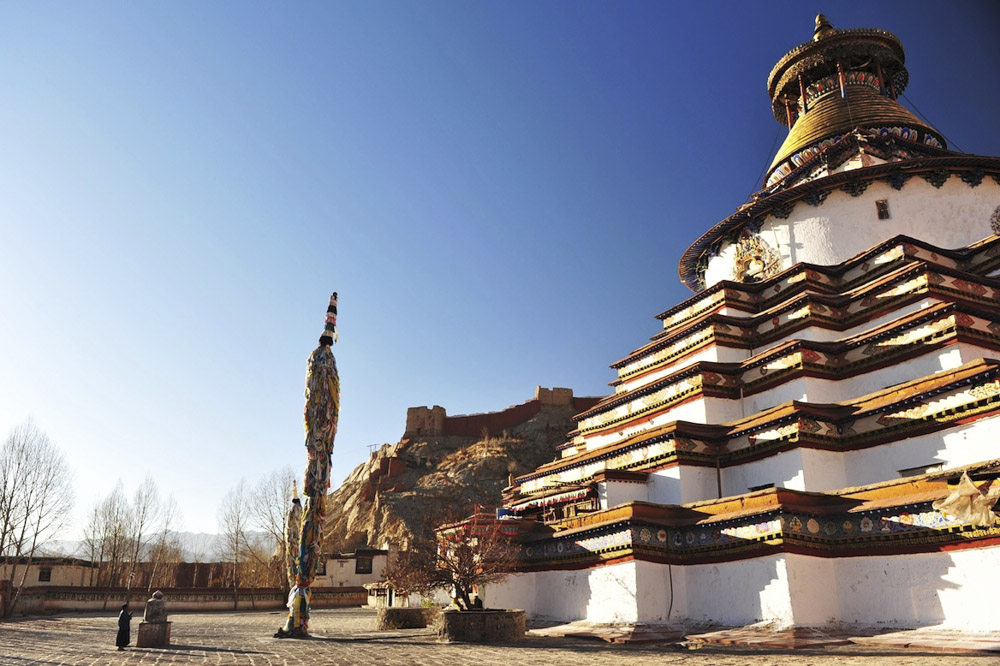 Continue reading →
Please follow and like us:
Posted on 4 May, 2017
Faces from the Land of  Snows
Many of us are nervous when it comes to taking a stranger's photograph, but portraits often provide the best memories – and the most striking images – from a trip. Professional photographer and our photography coach, Ron Yue presents some of his favourite portraits from Tibet…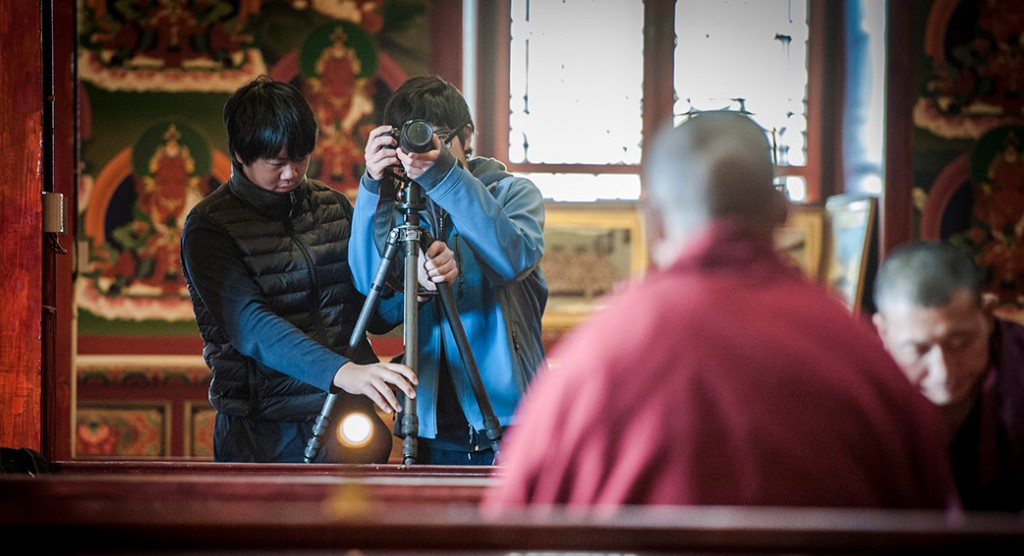 When travelling on the Tibetan Plateau, one of the most striking things is how devout most people are. Their Buddhist faith decides and drives many aspects of everyday life.

The lady with the beautiful coral earrings (below) was pausing mid-kora (prayer circuit) on the Barkhor in Lhasa. To the uninitiated, the Barkhor's foot traffic seems unceasing, but to Tibetans it is punctuated with holy places and tiny shrines, spaces to stop, reflect and pray.

The Barkhor is Lhasa's religious heart, but the city is also ringed by great monasteries, each with its own tradition of learning. Here, at Sera, young monks gather each afternoon to debate scripture. Each point is illustrated with a dramatic flourish – the clapping of hands, the stamping of feet and the striking down of their opponent's point.

These scenes are repeated – with local variations – acoss the Tibetan Plateau, from Yunnan to Ladakh. Below, a lady prays with a mala (a string of 108 prayer beads) wrapped around her fingers, in the dawn light outside the Ganden Sumtseling Monastery, a thousand kilometres east of Lhasa.

It is not just the elderly that follow Buddhist traditions. In fact, many pilgrimages are so strenuous that only the young can attempt them. Below, a  teenagerl prostrates herself on the Barkhor kora. After I shot this photograph she stood up, moved two paces forward and lay down again, measuring the length of the circuit with her body. She will complete the kora 108 times like this before her pilgrimage is complete.

Not all religious practices are so arduous though – for the onlookers at least! Below, a man picked from the crowd at Gyantse's Saga Dawa celebrations is covered with flour by a clown. These clowns are tasked with keeping the audience amused, against a backdrop of solemn religious dances.

Far from Tibet's towns and monasteries, a nomadic lady (below) welcomed us into her black yak-hair tent. Once common, nomads' camps are becoming harder to find, as the government encourages the drokpa to move into permanent housing.

As a photographer, these final two images are among my favourites. A young boy in Shigatse shows me how it's done…

…and a lady decked out in beautiful turquoise and coral jewelry takes a quick snap in Yunnan:

Each time I travel in Tibet I find new inspiration from its incredible landscape and wide open skies, but it's the memories of connecting with people here that I always remember most fondly. What a special part of the world!

Our journeys in the Land of Snows…

From Lhasa to Mt. Everest Base Camp…

Where do we go?

Day 1: Arrive in Kunming
Day 2: Flying up to Lhasa
Day 3: In & around Lhasa
Day 4: Lhasa to Gyantse
Day 5: Gyantse to Shigatse
Day 6: Pelbar to Mt. Everest
Day 7: Back to Lhasa
Day 8: Lake Nam-tso
Day 9: Lake Nam-tso to Lhasa
Day 10: Farewell Tibet

What you will discover

⦁ Lhasa, the capital of Tibet with the Potala Palace and the holiest Tibetan temple, the
Jokhang

⦁ Visit the old towns of Gyantse and Shigatse

⦁ Drive along Lake Yamdrok and Lake Namtso, the two holiest lakes in Tibet

⦁ Enjoy an unforgettable view
over the Himalayas and drive
right to the Mt. Everest Base
Camp

Journey Dossier

————————————

Our ALL NEW, UNIQUE journey from subtropical Lao to the Himalayas…

Where do we go?

Day 1: Arrive in Laos
Day 2: Luang Prabang to Luang Namtha
Day 3: Luang Namtha to Menglun
Day 4: Menglun to Lake Dianchi
Day 5: Lake Dianchi to Xizhou
Day 6: Xizhou to Lijiang
Day 7: Lijiang to Shangri-La
Day 8: Shangri-La to Deqin
Day 9: In & around Deqin
Day 10: Deqin to Markham
Day 11: Markham to Zogang
Day 12: Zogang to Rawok
Day 13: Rawok to Pomi
Day 14: Pomi to Bayi
Day 15: Bayi to Lhasa
Day 16: Farewell Lhasa

What you will discover

⦁ Drive from charming Luang
Prabang to Lhasa in Tibet…

⦁ Highlights include: Luang Prabang, Xishuangbanna, Meili Snow Mountain, Ranwu Lake, Lhasa and much more in between

Journey Dossier

————————————

Our most magnificent photography trip in Tibet

Where do we go?

Day 1: Arrive in Kunming
Day 2: Flying up to Lhasa
Day 3: In & around Lhasa
Day 4: Lhasa to Gyantse
Day 5: Gyantse to Tingri
Day 6: Tingri to Mt. Everest Base Camp
Day 7: Tingri to Shigatse
Day 8: In Shigatse
Day 9: Shigatse to Damxung
Day 10: Damxung to Lhasa
Day 11: In Lhasa
Day 12: Farewell Lhasa

What you will discover

⦁ Lhasa, Mt. Everest, holy lakes, adventure, blue skies, snow-capped mountains, red-robed monks, the Jokhang, the Potala, open roads…a journey for *your* life time!

⦁ Learn how to see beauty and capture moments with Master Photographer Ron Yue and
share with you friends!

Journey Dossier

Stories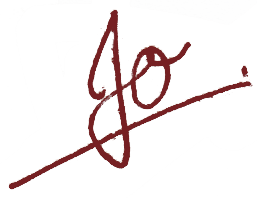 Please follow and like us:
Posted on 13 Apr, 2017
The Yarlung Tsangpo is Tibet's most important river. We take a whirlwind trip down its course…
A raindrop (or, more likely, a snowflake) falling near Mount Kailash in could have one of three fates. If it lands to the north or west of Tibet's holiest mountain, it will trickle into the Indus, flow across Ladakh, down the length of Pakistan and into the Arabian Sea. Fall to the south of the mountain and it will promptly cascade out of Tibet into Nepal, and – joining the Ganges – run across northern India, draining through Bangladesh into the Bay of Bengal. Finally, if it lands east of Kailash, our raindrop will join the Yarlung Tsangpo.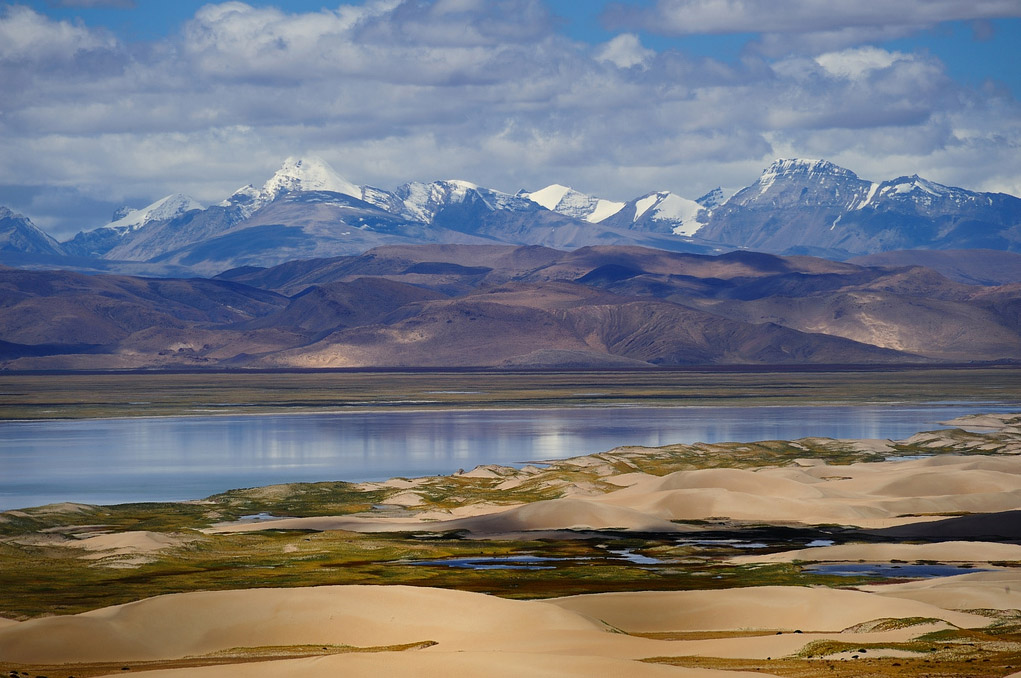 Tibet's most important river, the Yarlung Tsangpo flows east across Tibet for two thousand kilometres before it finds a way through the Himalayas and pours into India, where it is known as the Brahmaputra, "Son of Brahma". A journey along the Yarlung Tsangpo is a journey through Tibet's most dramatic landscapes as well as through Tibetan history.

The young river meanders out of Tibet's far west through sand dunes in a beautiful and rugged land. Although few live here now, this was once part of the Zhang Zhung kingdom, a pre-Buddhist civilisation that has left a handful of enigmatic ruins and soot-blackened caves near Mount Kailash.

For hundreds of kilometres, the Yarlung Tsangpo flows through a thinly populated region, its braided stream fed by melt-water from Himalayan glaciers. Eventually, the river flows past Tibet's second city, Shigatse, to its confluence with the Kyi Chu outside Lhasa.

In flowing through more populated regions, our river performs a new purpose. The rocky riverbanks are marked with white ladder-like symbols, showing that a water burial has been held recently. Although Tibetan sky burials are well-known, poorer people more often wrap their dead in cloth and slide the bodies into the river – one important reason why Tibetans do not eat fish.

Downstream, the river enters the Yarlung Valley, home of Lhasa's Gongkar Airport, and – less prosaically – Tibet's historic heartland. Here, the valley is lined with important religious sites: Tibet's first monastery, the remarkable, circular Samye; a meditation cave used by 8th century sage, Guru Rinpoche; and the oracle lake, Lhamo La-tso are all nearby. It was from the Yarlung Valley that early rulers unified Tibet in the 7th century, and here that the Debate of Samye was held, the latter a crucial juncture in the history of Tibetan Buddhism.

It is also in the Yarlung Valley that our river's first hydroelectric dam went online in 2014. Slated to generate 540MW of electicity, the Zangmu Dam is the first of five planned for this area. Further east again, where the river begins its precipitous drop into India, its hydroelectric potential has China's engineers really excited – a long-mooted plan would see a vast dam with double the output of the Three Gorges Dam built in the Yarlung Tsangpo Gorges.

For now, however, the river churns through its spectacular and isolated gorge unimpeded. Here, the river describes a vast U-turn, pivoting to flow south and west before spilling into India. Over the course of the gorge's length, the river water drops a staggering 2,400 metres and runs between two 7,000-metre peaks, making it one of the world's deepest gorges. This region is known as Pemako to Tibetans, one of 108 Himalayan valleys hidden by Guru Rinpoche to give sanctuary in times of trouble. Certainly, the gorge resists exploration by even the best-prepared modern expeditions – those preparing to travel here must rely on satellite images, rather than actual maps.*

It seems fitting for our raindrop Yarlung Tsangpo to leave Tibet this way. Flowing from the flanks of Buddhism's holiest mountain to a secret valley best known from outer space, the story of the Yarlung Tsangpo is – like much of Tibet – riddled with mystery, flecked with faith, and utterly alluring to the adventurous spirit.

Explore Tibet with our journeys… 

Lands of Silk & Snow: From Luang Prabang to Lhasa

ALL NEW, UNIQUE journey from subtropical Laos to the Himalayas

Where do we go?

Day 1: Arrive in Laos
Day 2: Luang Prabang to Luang Namtha
Day 3: Luang Namtha to Menglun
Day 4: Menglun to Lake Dianchi
Day 5: Lake Dianchi to Xizhou
Day 6: Xizhou to Lijiang
Day 7: Lijiang to Shangri-La
Day 8: Shangri-La to Deqin
Day 9: In & around Deqin
Day 10: Deqin to Markham
Day 11: Markham to Zogang
Day 12: Zogang to Rawok
Day 13: Rawok to Pomi
Day 14: Pomi to Bayi
Day 15: Bayi to Lhasa
Day 16: Farewell Lhasa

We also offer shorter version of this journey – 10 & 13 Days

What you will discover

⦁ Drive from the charming

  Luang Prabang to Lhasa in
Tibet…

⦁ Highlights include: Luang

  Prabang, Xishuangbanna, Meili Snow Mountain, Ranwu Lake (然烏湖), Lhasa and much more in between

Journey Dossier

– – – – – – – – – – – – – – – – – – –

Roads on the Roof of the World


From Lhasa to Mt. Everest Base Camp

Where do we go?

Day 1: Arrive in Kunming
Day 2: Flying up to Lhasa
Day 3: In & around Lhasa
Day 4: Lhasa to Gyantse
Day 5: Gyantse to Shigatse
Day 6: Pelbar to Mount Everest
Day 7: Back to Lhasa
Day 8: Lake Nam-tso
Day 9: Lake Nam-tso to Lhasa
Day 10: Farewell Tibet

What you will discover

⦁ Lhasa, the capital of Tibet

  with the Potala Place and the
holiest Tibetan temple, the
Jokhang temple

⦁ Visit the old towns of Gyante and Shigatse

⦁ Drive along lake Yamdrok and 

Lake Namtso, the two holiest in Tibet

⦁ Enjoy an unforgettable view

  over the Himalayas and drive

  right to the Mt. Everest

  Basecamp

Journey Dossier

Stories on Tibet

A Glimpse of Everest
From Silk to Snow

 
*Botanist Frank Kingdon Ward had this to say about a trip here in the 1920s:
Not only is Pemako extraordinarily difficult to reach from any direction, it is still more difficult to penetrate and explore when reached. Surrounded on three sides by the gorges of the Tsangpo, the fourth is blocked by mighty ranges of snow mountains, whose passes are only open for a few months in the year. Beyond these immediate barriers to east, west and south are trackless forests inhabited by wild unfriendly tribes… Add to this… a climate which varies from the subtropical to the arctic, the only thing common to the whole region being perpetual rain, snakes and wild animals, giant stinging nettles and myriads of biting and blood sucking ticks, hornets, flies and leeches…
The Riddle of the Tsangpo Gorges, Kingdon Ward, 1926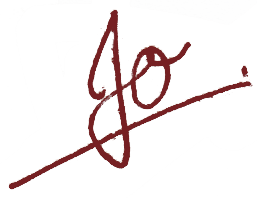 Please follow and like us:
Posted on 6 Sep, 2016
We hope you had enjoyable summer months. For us,
July and August were incredibly busy

, not so much because of journeys, but because

preparations for 2017 are in full swing

! Here's what we've been up to and what you can expect to come.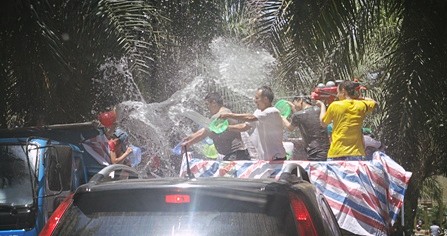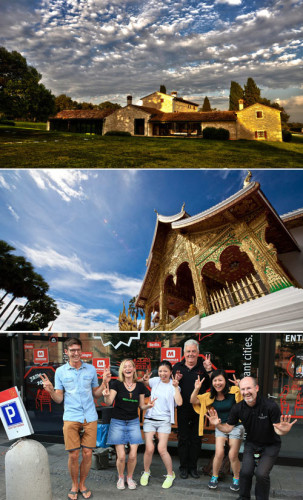 Looking back… 
Over the summer, we published some fun reading on our Detours blog:
What a Day?! – Here is a story about a very special day on my most recent research trip in Europe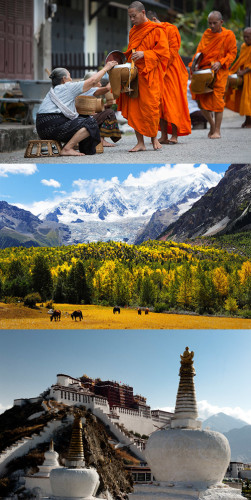 Looking forward… 
In September, we will be announcing two entirely new journeys for 2017.

From Lao to Tibet…
First out of the gate will be "Lands of Silk and Snow: From Luang Prabang to Lhasa", our entirely new journey to Tibet. Imagine driving from the lush rain forests of Lao to the stupendous mountains of Tibet, from a culture inspired by one form of Buddhism to that inspired by another. For this magical journey you need 16 days, but you can shorten it to 12 days if you skip the Lao portion.
On the other hand, if you want to make it into the journey of a lifetime, then add Roads on the Roof of the World at the end to drive all the way to the Mt. Everest Base Camp. Driving tours don't get any better than this in Asia!
---
Austrian Hungarian Lands: Vienna, the Adriatic, the Alps and Prague
And then comes a milestone for us.  After several private group journeys in Europe, here we are with our first scheduled European journey 
you can join in spring or autumn 2017

.

If you would like to

· spoil yourself with beautiful hotels,

· eat fine meals (not always Michelin star, but the best these regions have to offer the way "mom used to cook it"),

· drive on some of the world most beautiful roads and

· immerse yourself in the landscapes and cultures of Austria, Slovenia, Croatia and the Czech Republic, there is no better journey in the world.
---
Travel Inspirations for the coming months…

From now until February, here are some border-crossing journey ideas for you: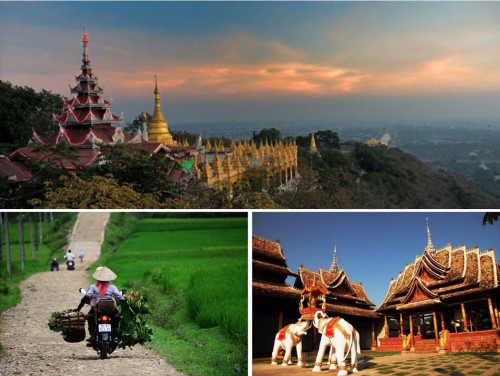 Drive on back roads through this country that was frozen in time but is now undergoing rapid change…

November 9 and February 12

Drive from Yunnan via Lao to northern Vietnam…and experience a region rich in different minority cultures…

November 4

Our flagship Asian journey from the edge of Tibet to Chiang Mai in northern Thailand is even better at Christmas and New Year.

It is beautiful as a family adventure, too, a journey that will be unforgettable for you and your children

December 22
All the best from On the Road Experiences for the lovely month of September!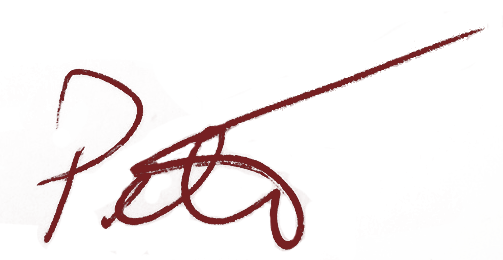 Please follow and like us:
Posted on 25 Aug, 2016
Early each morning, monks file out from the wats that line Luang Prabang's loose grid of streets. Clasping their alms bowls, they walk, solemn and barefoot, along streets fringed with shaggy toddy palms, and past candy-coloured colonial villas and gilded temples.
Temperatures climb throughout the day, and most people retreat to the shade to sip cooling drinks and doze before venturing out again at dusk, when a vibrant night market sets up on Sisavangvong Road. Here, stallholders sell souvenirs and shake out bright silk scarves under bluish fluorescent lights as the sun sinks behind far bank of the Mekong.
As you leave Luang Prabang and set out on the road to the Chinese border, the drive punctuated by roadside villages thronging with children, any change seems faint. Three hundred kilometres away, Luang Namtha is clearly cut from the same languid, tropical cloth. Even just across the Chinese border in Xishuangbanna, people believe the same form of Buddhism, practice the same rituals, share the same traditional dress and enjoy very similar spicy-sour flavours in their food.
From Xishuangbanna, where the route of our journey Lands of Silk and Snow briefly reunites with the Mekong, the road climbs up out of the steamy basin where elephants and peacocks once strutted through the jungle, and onto the Yunnan-Guizhou Plateau. As you ascend, the air temperature drops and dries, and the vegetation changes; rubber trees and banana plantations fall away to be replaced by temperate forest and – as we approach Kunming, "the City of Eternal Spring" – fields of flowers.
North of Kunming, the pace of change picks up as you continue to climb up, past Dali and Lijiang to Shangri-La, the threshold of Tibet. From here to Lhasa our route takes us from the dramatic valleys that mark the Tibetan Plateau's eastern fringe, crossing the Mekong again – and the Yangtze and the Salween – climbing over snow-dusted passes and swooping down through thickly forested valleys before spilling out into the broad Kyi-Chu valley on the final approach to Lhasa.
It is only by travelling overland that you can see how one land merges into the next; how the continuity of the tropics suddenly disappears as one ascends the 1500 metres between Jinghong and Kunming; how the long parallel valleys that run through northwestern Yunnan have given rise to dozens of ethnic groups and amazing biodiversity; and how Tibetan culture has overcome quite awesome geographical challenges in order to spread from Yunnan to the edge of Central Asia.

And yet while there's change, there are also elements that bind the entire route together.
From Laos to Lhasa the main religion is Buddhism – albeit of different schools. Everywhere between Dali and Luang Prabang was once part of a single kingdom in the eighth century. And
the waters of the Mekong gather our journey together at several points, like a purse-string
, as we travel from South-East Asia, where its waters flow, brown and stately, up to the heights of Tibet where the young river tumbles wildly out of the hills.
Pity the poor traveller who flies over all this! In our busy times of direct flights and high-speed trains, it truly is a luxury to experience a long-distance overland journey, and to see a portion of the earth's surface up close and personal, and to meet people along your route, at every turn learning that for all that separates us, there is as much that binds us together.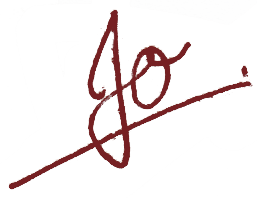 Please follow and like us:
Posted on 6 Jun, 2016
In October 2008, my wife Angie and I spent a few days in northern Thailand. While visiting this part of the Golden Triangle, we chanced upon a rusty map of the region. "Look," I said to Angie, "two months ago I was here," as I pointed to Xishuangbanna, the southernmost region of China's Yunnan Province. ('Xishuangbanna', 西双版纳, is the sinicised version of the Thai word Sipsong Panna ( สิบสองปันนา) and means 'twelve thousand rice fields'.)
"So close, eh?" Angie mused, "I wonder whether you could drive from there to here. Wouldn't that be something?!"
"You've got to be kidding me," I replied, "There's borders to cross and who knows if there's even a road." Having only just managed to organise our first driving journeys in China, the idea of crossing borders seemed, to me, unfathomable. In those days, whenever an idea came up, my brain was inevitably troubled by the question of how to make it happen, and from that often flowed a stream of reasons why it couldn't be done. Angie, by contrast, is seldom bothered by such details.
Later that day I reluctantly pursued the idea with her. Wouldn't it be something to drive from the foothills of the Tibetan Plateau in northern Yunnan down through Laos and the Golden Triangle to Chiang Mai, and to see China merge into South-East Asia, turn by winding turn? It was a powerful idea, but "how?"
***
I grew up in another Golden Triangle of sorts, in Bregenz, a small town by the eastern shore of Lake Constance where Germany, Austria, and Switzerland meet. No opium poppies there, I can assure you: the only sources of inspiration are reflections in crystal-clear lakes and the herb-scented mountain air.
Shopping in Switzerland? Lunch in Germany? Dinner in Austria? All in one day? Easy! As I child I regarded driving across borders as an everyday occurrence, but since moving to Asia I have gained a newfound appreciation for the romance – and administrative complexities – that such overland journeys can inspire.
***
Fast forward to April 2009. Angie and I have just landed in Shangri-La. The sky is overcast and snowfall has dusted the hilltops. While eating breakfast we meet the hotel manager and tell her about the journey we are about to make. Her eyes light up, "If you enjoy driving, then you must take the back road to Lijiang – let me show you…" I finish my toast in one bite and drain my coffee cup while Angie knocks back a motion sickness pill. And then we're on our way.
The main road from Zhongdian to Lijiang is shown on my map as a thick red line. The road that we take is shown as a single pencil-thin line, snaking between the two towns. The hotel manager was right – the road is incredibly beautiful, winding over high passes before descending to the Yangtze at Tiger Leaping Gorge, where the river roars through a deep gorge beneath looming cliffs.
After arriving in Lijiang that evening, we wander the cobbled streets, bemused at the sheer number of people visiting this UNESCO World Heritage Site. From Lijiang we drive south along excellent highways to Dali, on the shore of Lake Erhai, and then to Kunming and south again to Jinghong, the largest town in Xishuangbanna.
By the time we arrive in sleepy Jinghong, with its palm tree-lined streets and Thai-style temples, it's clear that we are on the edge of South-East Asia. The region's main ethnic minority, the Dai, are closely related to the Thais and in the countryside we drive past groups of sarong-clad Dai women with flowers in their hair.
From Jinghong we continue our drive on another wonderful road to the China–Laos border at Mohan, where we make a bit of history: Angie and I are, according to everyone we ask, the first Westerners to drive a China-registered rental car across this border. What I had taken for granted back in the "Golden Triangle" of my youth does, indeed, mean making history here…
In Laos, Route 3 connects the China-Laos border with Huay Sai on Laos' border with Thailand, cutting south-west diagonally across the country. At that time, Route 3 had been recently rebuilt, and the modern road contrasted starkly with the villages it runs through, where villagers' lives seem untouched by the twenty-first century.
Later the same day we arrive at Huay Sai and take a rickety looking car ferry to Chiang Khong on the Thai side of the border. After a long day – driving in three countries and over 400 kilometres – Angie and I treat ourselves to a stay at the lovely Anantara Golden Triangle resort.
The next morning, wholly refreshed, we drive back up to the map of the Golden Triangle, where Angie had had her idea six months previously. We look at the battered map in its rusty frame before turning and gazing out towards Burma and Laos, shaking our heads and agreeing "Now, that really was something…"
Never, ever let questions of "How?" stand in way of pursuing your ideas!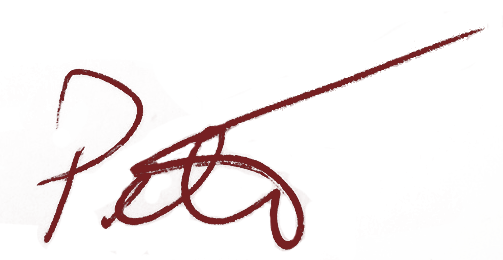 Since that first trip, we now have multiple crossing-border itineraries in Asia allowing you to step into our footsteps:
Yunnan via Laos to Thailand
Yunnan via Laos to Vietnam – Our Summit to Sea itinerary takes you from one UNESCO World Heritage old town, Lijiang, in Yunnan to another, Hoi An, right by the South China Sea.
Burma – Our From the Golden Triangle to the Bay of Bengal itinerary is a magical exploration of Burma, including out-of-the-way, hidden gems and well-known, must-see stops.
Please follow and like us:
Posted on 10 May, 2016
In November 2010, Peter and I spent a few weeks in Qinghai and Tibet researching new itineraries – routes that became Roads on the Roof of the World and the Qinghai version of Tibetan Highlands.
We had enjoyed an adventurous start to the trip, including an attempt (quickly abandoned) at winter camping in Tuotuohe, and what must have been one of the longer picnics in Qinghai's history as we waited for an over-ambitious lamb stew to cook 5,000 metres above sea level. But, as we arrived in Lhasa, fatigued but at least thoroughly acclimatised, the trip's highlight – Mount Everest – still lay ahead.
After a few days in Lhasa, we set out for the mountains. As we drove west of Shigatse, human settlements thinned out dramatically and the landscape grew steadily more otherworldly. Bands of ochre sediment jutted out at strange angles, hinting at the violence of the collision that forced the Tibetan Plateau three miles into the sky – and pushed the mountain peaks higher still. Eventually, we came to Baiba.
Baiba is a rugged little town that sits beside the highway to Nepal. Nobody would choose to stay here, except for the fact that it is conveniently close to the turn-off for Mount Everest's North Base Camp. We stopped here one evening, four days out from Lhasa. After looking at hotels and restaurants and an hour spent sitting wrapped in blankets, talking and playing cards by candlelight, we called it a night.
The following morning our alarms rang well before dawn. Bundled up like onions in thick layers of clothing, we loaded the cars and set off. The beginning of the journey was stop-start as we passed through checkpoints and turned onto the gravel road (now paved) to Base Camp. As we climbed through a long series of switchbacks, suspense grew. We were climbing up to Pang-La, the first pass from which Everest is visible – would the peak be clear?
I was sitting in the first car in our two-car convoy. As we crested the pass, I used the walkie-talkie to report, incisively, that, "Oooh,it's beautiful!" Dawn had painted the smaller peaks with a rosy glow, and there was a gorgeous arc of white-capped mountains before us. But the larger peaks were shrouded in thick cloud, as we used a signboard to work out where Everest, Lhotse, Makalu and Cho Oyu ought to be.
It is a long drive from Pang-La to Everest, and it seems even longer when you can't see the mountain in question. We drove on in hope that the weather would clear, but the mountains stayed locked in behind the cloud as the morning wore on. Early that afternoon we arrived at a deserted Base Camp and scrambled up a huge and crumbly lump of moraine that is used as a viewpoint when there's something to view. A wall of mist swirled before us, as we tried to imagine how huge the mountain would be at such close quarters.
Eventually, even Peter – usually the most optimistic person in such situations – conceded that we might as well turn back. So we turned around and began to drive back to Baiba, disappointed and empty-handed, for we had hoped to come away with some photos of Everest for our new journey dossiers. Seeing Everest was one of my top travel ambitions, and it seemed such a pity to have been to Base Camp without getting so much as a glimpse of the north face.
Late that afternoon, as we were climbing back up to Pang-La, my car's walkie-talkie crackled into life. "I think the clouds are clearing," came the message. And they were. One by one the mighty 8,000 metre peaks emerged, looming twice as high and more massive than we'd imagined. My disappointment evaporated and – just as suspense had mounted that morning – excitement began to mount as we zig-zagged back up to the pass.
Since that first trip I've had brilliant luck with the weather in these mountains. And while it's an incredible experience each and every time – I always end up gazing at the highest peaks for minutes on end – nothing compares to the thrill of that first sighting. The clouds never completely cleared and we only had a short while before the weather closed in again, but it was enough to create an indelible memory of just how magnificent our world is. And that is the point of travel, is it not? Well, that and being able to say you've eaten lamb casserole at 5,000 metres above sea level…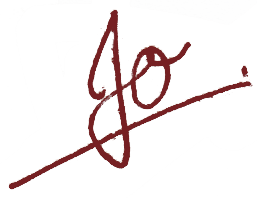 Please follow and like us:
Posted on 5 Mar, 2016
For most people and much of human history, mountain passes evoked visions or memories of anything but pleasure. Instead, they were associated with the pinnacle of hardship as traders, exhausted and starving, struggled to carry their wares across mountain ranges wrapped in deep snow and whipped by ferocious winds. Or they were frozen graveyards of soldiers since mountain ranges formed natural boundaries turned political borders. Mountain passes were the places where one came face-to-face with the enemy and the violence of war.
How different my world is.  I grew up in the heart of the Alps and in a period of peace and unprecedented wealth creation: there are fabulous roads to drive across the Alps and the only enemy I recall encountering at the top of a mountain pass was a bird that shat into my open-top car while I got myself a grilled sausage from a stand by the roadside.
According to one website for motorbikers, there are over 300 mountain passes dotting the Alps. I must have driven across at least a third of them, including some of the highest, like the Col de la Bonette in eastern France.
(When I drove across this one many years ago I felt quite proud, though I've since driven over a mountain pass on the S304 in Tibet that's early twice as high, topping out at 5,450m.)
Once, on one day alone, I crossed fifteen Alpine passes. On days like these, when I have the luxury of driving for fun, the agony of waking to the sound of an alarm clock in the early hours of the morning was almost instantaneously replaced with eager anticipation of the treat to come. In no time, I was up, dressed, had put on my soft driving shoes (all the better to work the pedals), and had rushed out to my car.
On that morning I started off in Bregenz, an Austrian town by Lake Constance.   At first, with the early morning temperature hovering around five degrees Celsius, the car's engine was still cold, not ready to be put through its paces. The engine spluttered and vibrated edgily in its compartment. But by the time I reached the city boundaries, heading south, it was purring and I was raring to go.
When the last of the city's stop-lights turned green, it threw open the road before me.  I sped up and found myself rushing toward immense beauty: the black, purple, pink and orange of dawn in the Rhine valley.  There was the instant thrill of being pressed into my seat, feeling the engine coming, then coming again, and again, as I shifted through the gears. It was a sensation of total immersion and bursting free, both at the same time.
About an hour later, the sun rose and divided the world in two, the still-dark valleys below and the glorious mountains above. In fact, I had finished climbing the first mountain, the Bielerhöhe, which separates Austria's two western-most states, and was already descending into a Tyrolean valley, negotiating hairpin turns on the way down, one after another.
The only way I can describe driving among those mountains on that day is as a sensation of near-flight…
Come back for the continuation of On days like these … soon…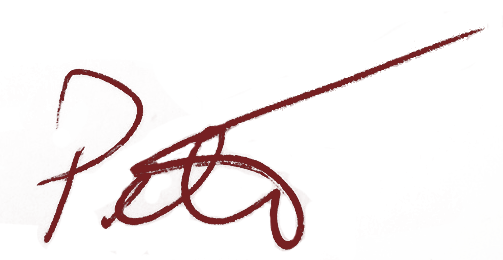 Please follow and like us:
Posted on 26 Jan, 2016
This Easter, we will return to Slovenia for the second time in as many years. Yet until 2015, I'd hardly heard the country's name, despite growing up in neighbouring Austria. Suddenly, Slovenian connections seem to be emerging all over the place.
When I was growing up in Austria in the 60s and 70s, Slovenia was part of Tito's Yugoslavia and lay behind the Iron Curtain. In my imagination, anything connected to the USSR was rendered in monochrome – inaccessible, undesirable, and forbidden. Why would anyone want to go there?

I never had cause to reconsider this attitude until about a year ago, when my wife, Angie, and I began planning a trip to Croatia. Angie, who is originally from Malaysia, mentioned this casually to her sister Denise when visiting her last year in Melbourne.  "You're going where?!" exclaimed her sister. "Croatia's right next to Slovenia. My best friend is from there."  Thirty minutes later Denise's friend Renate had joined us to tell Angie all about Slovenia.

A few facts about Slovenia…

Slovenia is a small central European country  with a population of just two million. Part of the Austro-Hungarian Empire until it became independent at the end of World War I, Slovenia shares Austria's mountainous geography. Since joining the EU in 2004, Slovenia has become a moderately well-to-do and modern country, yet has retained a rustic and unspoiled charm. Slovenia produces wonderful wines (mostly whites but also reds) and has endeared itself to us for family restaurants that serve hearty food "like grandma used to make".

Several of our On the Road in Europe itineraries visit Slovenia (for example, this itinerary here).  In 2017 we will be launching an Eastern Europe itinerary that will include the Czech Republic, eastern Austria, Slovenia, Croatia and Northern Italy.
 "If you do go to Slovenia, I'll introduce you to my cousin Sanja.   You can stay with her!" Just three months later Angie and I met Sanja and her husband Davorin. The couple live and work in Slovenia's largest national park which takes its name from the country's tallest mountain, Triglav. Sanja works in a drugstore; Davorin's work is connected to the national park authority. They have three sons who could be the envy of any parent: courteous and lively, they come home from school to work on the family farm without their parents' prompting. Much of what the family eats comes from their own land.  
After Angie's meeting with Renate, our trip to Croatia expanded to take in Slovenia as well. While researching our itinerary we thought it
would be nice to stop at some vineyards along the way. A friend recommended Movia, one of Slovenia's finest winemakers. The vineyard's owner, Ales, is one of a kind, we heard. Wouldn't it be something to meet him?
When we plan our holidays, Angie researches the hotels and restaurants; I pick the roads in between. On February 10th last year, we pulled up in front of one of Angie's selected restaurants, Danilu, on the outskirts of Ljubljana and a member of Jeunes Restaurateur d'Europe. We were served by a fizzy young lady who turned out to be the owner's daughter. Besides helping out in the family restaurant, she runs a night club and, to our great surprise, counts Movia's owner Ales among her close friends. A week later we met Ales, shaking his enormous farmer's hands, and spent an entire afternoon tasting his beautiful wines in his firelit tasting room.
Sinuous roads lead through the Triglavsky park – one, narrow and steep, leads across a tall pass from Kranjska Gora to Soca; another enters from Italy. Less winding, the latter meanders across a lower pass and traces the course of a beautiful river. I could drive on these roads for hours without getting bored: how could one when immersed in this lovely landscape and dreamily following the curvy tarmacked ribbon of road?
We were driving through Triglavsky National Park earlier this year when I suddenly noticed something I hadn't seen for a while. It was one of those double-take moments: did I just see what I saw? I turned around and back-tracked and then stood in front of, well, was I still in Slovenia? Or had I been transported to Tibet? Right there, in front of me, there were little cairns of stones that I had last seen along the road to Mt. Everest: sacred piles of stones that are constructed to fend off evil and bring good fortune. How had they been transported to Slovenia?
I find myself pondering how it can be that I had to go from Austria to Tibet and then via Malaysia and Australia only to discover Austria's neighbor Slovenia and its unfathomable connections to places impossibly remote from it.
Sometimes it's the things planned well in advance that make a journey special, like Angie's restaurant choices or a particular route I've chosen, but at other times it's the magic of serendipity – a chance collision of people and places – that transforms a journey into a really exceptional experience.
Please follow and like us:
Posted on 23 Nov, 2015
I want to write about Tibet, but I'm struggling with where to start. Should I begin by describing the raw beauty of the Himalayas? Maybe with the profound way that Buddhism permeates the Tibetans' daily lives? Or perhaps I should start with the rigours that are inevitably involved in a journey on the Tibetan Plateau?
This forbidding region draws me to it in many ways, but it boils down to the following; the pursuit of adventure, a love of mountains, the challenge of overcoming adversity, and witnessing the Tibetan people's devotion.
Above all, to me Tibet stands for adventure. In exchange for moving myself out of my comfort zone, I know that I will come home with unforgettable memories.
The photo shown here is from one of many such adventures, and taken on my 21,000km journey through China in a Caterham Super 7.
It was July 2007 and early rains had swollen a nameless river in eastern Tibet, sending it gushing across the road. Attracted by the odd sight of a yellow sportscar on this remote stretch of road, three passersby rolled up their sleeves and volunteered to help Miss Daisy (the Caterham) and I through the water. When you scream 'push' and three kind volunteers heave you through an icy cold river, you won't forget it!
Beyond the thrill of adventure, there is the magnetic pull of the mountains. I grew up in the Austrian Alps and thought them magnificent – until I went to Tibet, that is. In Austria you reach sky at 2,000 metres above sea level. In Tibet there are cities with airports and golf courses at that altitude. The Tibetan highlands start where the Alps end, more or less. The plateau is, almost literally, quite out of this world.
But while Tibet's mountains – from Mount Everest on down – lend the landscape an unparalleled drama and beauty, the region's high altitudes also make plateau life and travel uniquely challenging. Lhasa's iconic Potala Palace may seem an appealing place to visit on your first day in the Tibetan capital, but climbing the staircases to the entrance is best left until the end of your trip when you are properly acclimated.
Perhaps the Tibetans' profound Buddhist faith is related to the challenges of living at such altitudes. Almost every time I find myself in the Tibetan world, sooner or later I encounter people making the arduous pilgrimage to Lhasa's Jokhang Temple. Each pilgrim will prostrate themselves, get up, walk three steps, and prostrate again (in Chinese this is called 磕长头). This slow progress continues, not for a hundred meters, not for one kilometer, but for hundreds – if not thousands – of kilometers.
Weatherbeaten, dirty, exhausted, and yet with their broad smiles hinting at inner bliss, the pilgrims have retained a depth of faith that many of us have long since lost. I'm not a religious man, but I never fail to be moved by others' devotion. Add to this the outer trappings of Tibetan Buddhist ritual – monks chanting by flickering lamplight, prayer flags snapping from mountain passes and timeless festivals – and this is clearly one of Tibet's many attrations for me and many others.
Some places offer one of these drawcards, perhaps one destination offers mountain adventure, while another posseses a unique culture, say, but few offer such a beguiling combination as the Tibetan Plateau. It is small wonder that this special place has attracted generations of adventurers and romantics…
What is it that draws you to Tibet?
* * *
If you agree with me about Tibet's many and varied attractions, you might like to read more about our upcoming Tibetan journeys.
Mountain-lovers will be interested in Roads on the Roof of the World, a fantastic 8-day itinerary that runs from the Tibetan heartland to Mount Everest Base Camp. The 11-day Tibetan Highlands is an epic journey from Kunming to Lhasa overland across the beautiful and rugged eastern foothills of the Himalayas. Both will have departures in spring 2016.
Please follow and like us: