Given that the basic ingredients are so similar (noodles, broth, herbs, meat) you'd be forgiven for confusing South-East Asia's noodles. To do so publicly, however, would be to invite debate, if not argument. Each country and region is downright passionate about its own take on a humble bowl of noodle soup.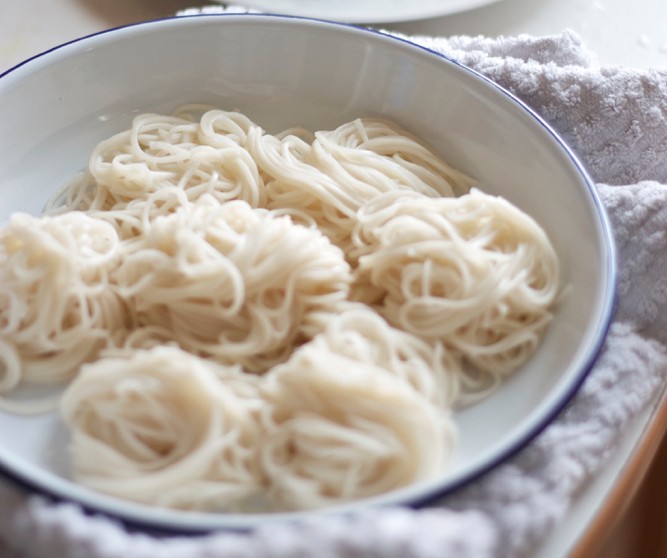 Whichever side of this culinary debate you fall on (and this is something that is well-worth researching), one thing the dishes below have in common is that they are simultaneously exotic and comforting, and – most importantly – utterly delicious…
---
1. Khao Soi from Chiang Mai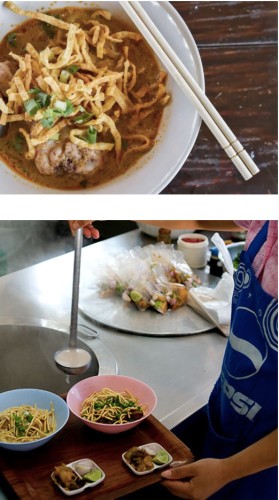 Take a bowl of yellow egg-and-wheat noodles. Add a ladle of thin curry – chicken or beef is traditional, a drizzle of coconut cream, and top with a handful of crunchy deep-fried noodles. Serve with pickles, sliced shallots and wedges of lime, preferably in Chiang Mai. This is the essence of khao soi.
Not to be confused with a totally different Laotian dish of the same name, this is a noodle soup that inspires devotion. Its roots may lie across the border in Burma, but Chiang Mai has adopted khao soi wholeheartedly. The dish is served in simple canteens across the city, with flavours split along broadly religious lines; Halal khao soi joints use a mild curry, while Buddhist-run noodle shops tend to use a much spicier soup.
Once you've tasted your first bowl, it's easy to see why khao soi is one of Chiang Mai's most famous culinary exports. As chef Andy Ricker puts it, "It's exotic without being weird and, most important, completely delicious."
---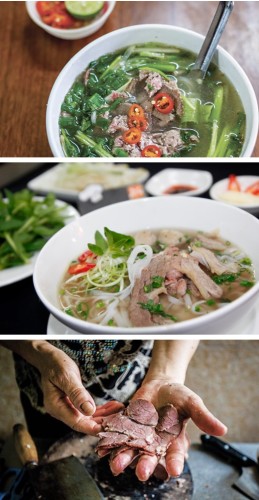 2. Pho Bo from Hanoi
According to an old Vietnamese saying, ask nine people where to get the best pho, and you'll get 10 different answers. Perhaps the best-known South-East Asian noodle dish after pad thai, Vietnamese pho bo – flat rice noodles served in clear broth and topped with thinly sliced beef brisket and spring onions – are a national obsession. Add a crisp banh quay (deep-fried dough stick) to dunk in the broth, and you have a dish that feels both wholesome and indulgent all at once.
Elsewhere, bowls of pho are served with baskets of fresh herbs, though not in Hanoi, pho bo's original home. Condiments are sparse too, and limited to garlic vinegar, chillies and – maybe – a wedge of lime. With very little to detract from the flavour of the broth and the cut of the meat, the quality of both is allowed to shine, or not, as the case may be – fortunately, someone's already done the footwork for you and rounded up the best pho bo spots in Vietnam's capital.
---
3. Khao Piak Sen from Luang Prabang
Before dawn each day, noodle shops across Laos fill with the sounds of cooks preparing khao piak. Fresh, thick and round, like Japanese udon but with a little more bounce and bite, these noodles are the core ingredient of khao piak sen.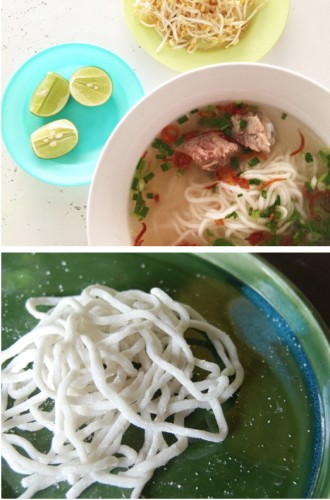 Eaten for breakfast and lunch, khao piak sen is Laotian comfort food – chewy noodles, cooked in chicken broth spiked with with lemongrass, galangal and kaffir lime leaves, topped with juicy poached chicken or pork ribs and deep-fried shallots.
This is just the starting point however. A good soup noodle spot will also serve up a mountain of fresh herbs (mint, sweet basil, sawtooth herb, coriander) and raw vegetables (snake beans, watercress, pea shoots, cabbage, lime wedges and birdseye chillies). Tables also groan under the weight of condiments – you'll see locals working their way methodically through white pepper, sugar, pickled ginger and garlic, soy sauce, white vinegar, fish sauce, sweet chilli sauce, Maggi seasoning and shrimp paste. By the time you've finished, your khao piak sen may look nothing like it did when you started, but that's no bad thing.
---
4. Mohinga from Mandalay
Bringing together flavours and ingredients from the Subcontinent, China and South-East Asia, mohinga is an apt metaphor for Burma as a whole. Widely considered the country's national dish, mohinga is served up in teahouses and sold by street vendors across Burma each morning.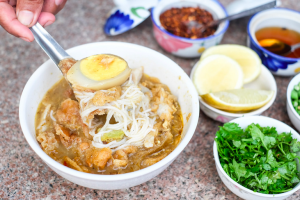 Rice noodles, either thick or thin, are covered in fish broth thickened with chickpea flour, and flavoured with banana blossom, onions, turmeric, lemongrass, garlic and chilli. Toppings add crunch and interest – deep-fried chickpeas, courgette fritters, hard-boiled duck eggs, fresh coriander – making mohinga intensely moreish. Mandalay's mohinga is less soupy than the Yangon version, leaving more room for those delicious toppings, as well as for a second helping.
---
5. Num Banh Chok from Siem Reap
Cambodia's quintessential breakfast dish is num banh chok or 'Khmer noodles'; fresh rice noodles served in a mild fish curry and topped with crisp raw vegetables –cucumber, banana blossom, crunchy water lily stems and fresh mint.
The noodles are made from fermented rice, giving them a slightly tangy flavour, and the curry is flavoured with turmeric – a nod to the long Indian influence that underlies the Khmer language, script and religion. Here in Siem Reap the dish is spiked with more garlic and coconut milk than the original version, and comes with a sweet sauce, tik pha em on the side.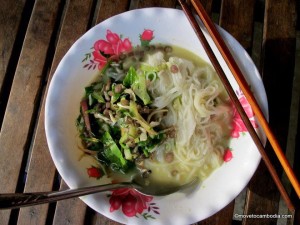 Legend has it that, long ago, a man called Thun Chey was exiled from the Khmer Empire to China. Forced to make a living, he set up a stall selling num banh chok. The dish was so warmly received that Thun Chey was eventually invited to meet the emperor, whom he offended and had him sent back to the Khmers, but not before giving China the inspiration for its own bowls of noodles, which deserve a whole post of their own…
---
Enjoy Southeast Asia's Noodles with our cross border journeys…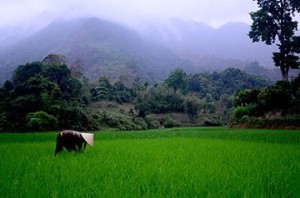 Summit to Sea: From Yunnan to Vietnam will take you on a drive will drive from the edge of Tibet and one UNESCO world heritage town to another right by South China Sea in Vietnam.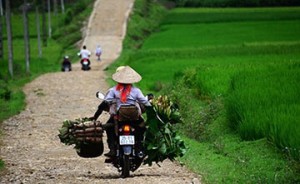 Asian Border Lands: Yunnan, Laos, Vietnam is an exploration of the borderlands of China, Laos and Vietnam where minorities live and trade and coexist as if political borders didn't exist…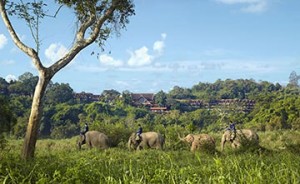 Elephants & Parasols: From Vientiane to the Golden Triangle is a discovery of beautiful landscapes, natural splendor and local culture.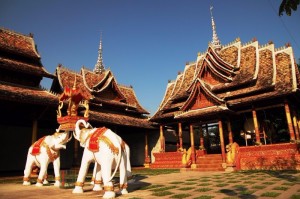 Shangri-La to the Lanna Kingdom will take you from ethnically Tibetan Shangri-La to the tropical heart of the Golden Triangle, then on to Chiang Mai in Thailand – former capital of the ancient Lanna Kingdom.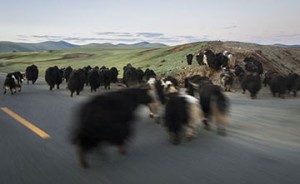 Land of Silk & Snow: Luang Prabang to Lhasa is a discovery of the world's most stunningly beautiful scenery: From subtropical Laos via Yunnan to the valleys and mountains of the Tibetan Plateau.
Please follow and like us: