In the first of three pieces about her research trip last May, Mareen takes us on a flying trip along her route through Laos and Cambodia…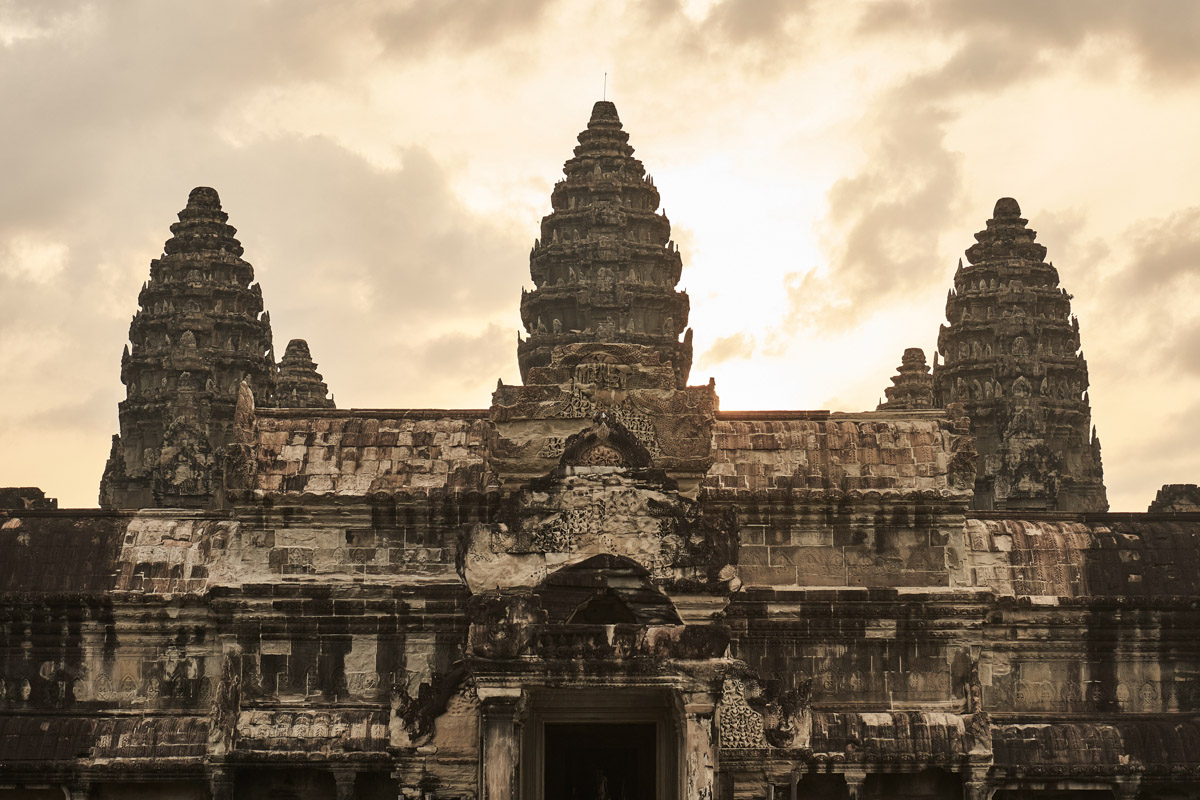 The journey not the arrival matters. 
T.S. ELIOT
In my job, I'm constantly reminded of the above. When we research a new journey, we have to bear our original idea and destination in mind, but we also have to be open to the experiences that we uncover. Sometimes a country will show a completely different and unexpected face to that which you had pictured from your desk research.
Research trips sound like fun. And they are, but they are also a lot of work, and entail many, many decisions as we shape the final itinerary.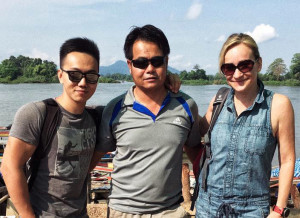 A photographer, a driver and I took off to create a Laos-Cambodia itinerary in May this year. I had planned almost everything; the roads I wanted to drive, the hotels I wanted to look at, and the sightseeing spots to explore.
I was more excited about the Laos portion of the trip than the Cambodian. Maybe this was because there is more information available on the remote parts of Laos than there is for similar parts of Cambodia, where the vast majority of visitors focus their attention (understandably) on Angkor Wat.
I had been to both countries before. We drive through the north of Laos on some of our journeys. And I had been to Siem Reap three times before my research trip – the first time in 2004, when roads were bumpy and the country less travelled.  But, despite this previous experience, what I discovered was very different from what I expected.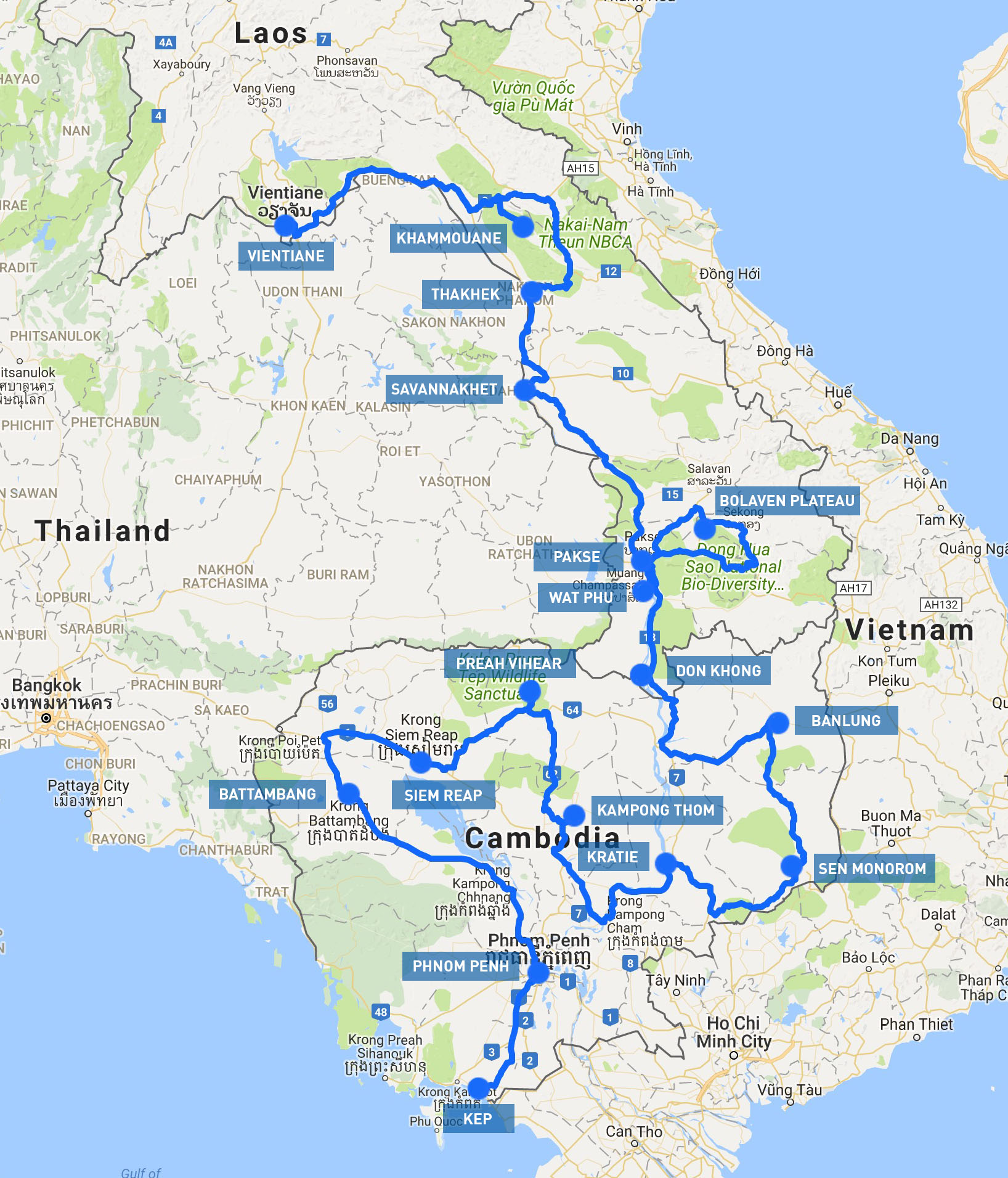 In Laos I started in Vientiane, the sleepiest capital city I have experienced in South-East Asia. From here I travelled south, following the Mekong towards the Cambodian border, with some side trips into the countryside.
Before I reached the Cambodian border these side trips took me to the limestone region near Konglor Cave, through the towns of Thakhek, Savannakhet, Pakse and Champasak, across the Bolaven Plateau, to my first encounter with Khmer history at Wat Phu and spent a day in Siphandon, the so-called "Four Thousand Islands" in the middle of the Mekong.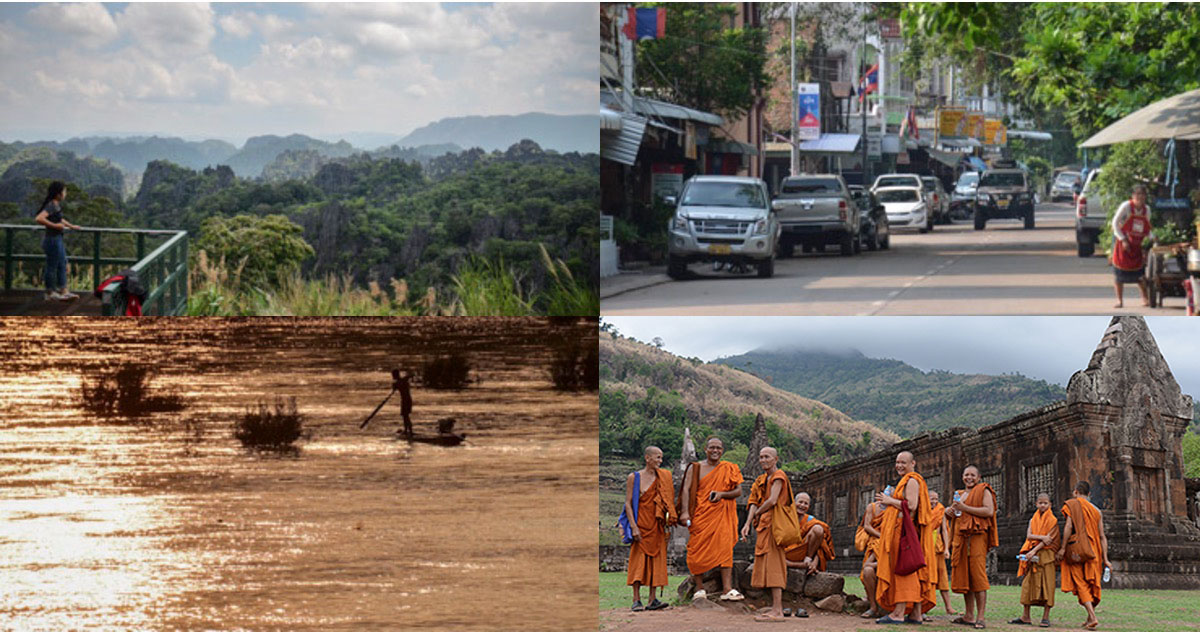 Laos is wonderful, if a bit sleepy – all-in-all, I thought it very well-suited for families. However, with very few exceptions, the accommodation is too basic for one of our regular journeys. What would I find in Cambodia? Would I be able to create a good itinerary out of what I found there?
And so it was with high hopes and low expectations that I crossed the border…
The first surprise was the roads. I was travelling during the rainy season, but despite plenty of poor weather – wet and cloudy – I was still able to reach many remote parts of Cambodia. I expected bumpy, washed-out dirt roads. I did find some of these, but overall I was surprised by the countryside's well-paved roads – sometimes the journey even seemed a little too smooth.
My planned route took us into into Cambodia's rugged, wild north-west, heading to Banlung in Ratanakiri Province. Here, I visited small villages, and went on an ill-fated search for a sunset viewpoint (of which, more later). My slight disappointment over the excellent state of the roads was soothed when we found some great off-road drives as we followed the road south into Mondulkiri Province, the country's largest and most remote. Here we found a wonderful lodge, although the night air was so thick with flying insects that we hardly dared to turn on our lights! (Below is a picture of an opportunistic frog, looking for a free dinner.)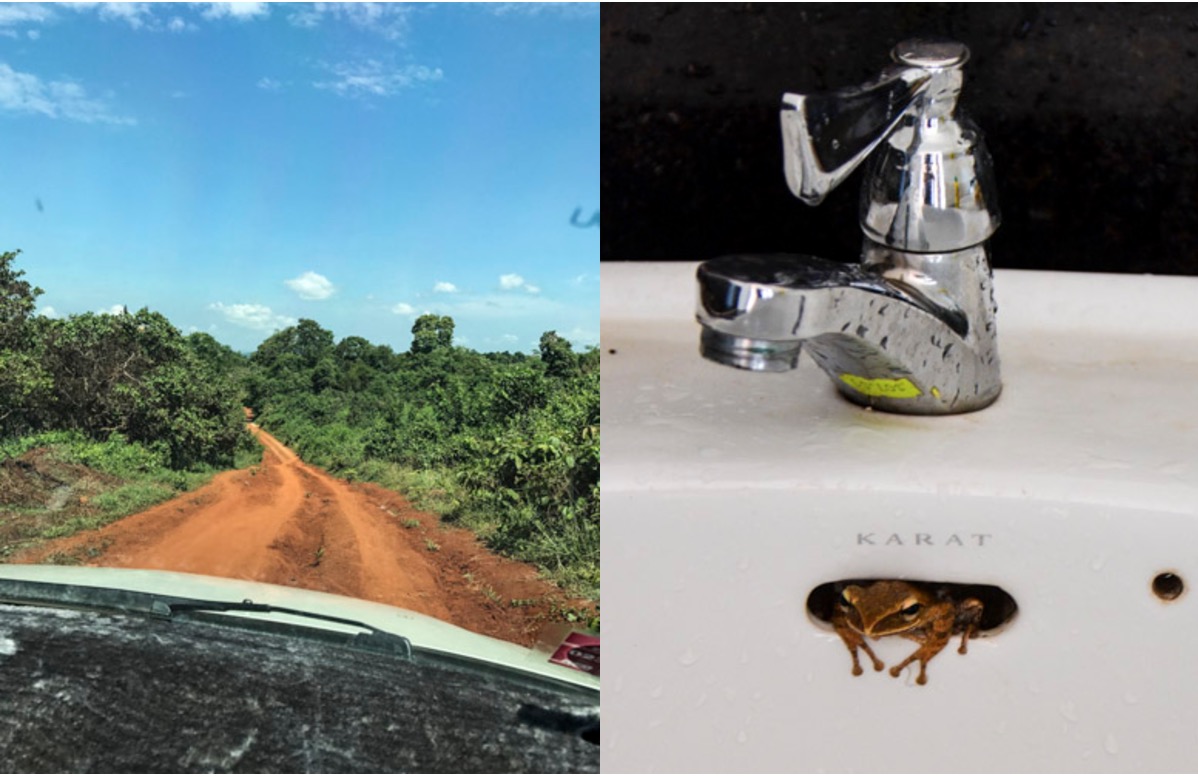 Overall, and again to my surprise, I found that Cambodia's hotels – even in quite out-of-the-way places – were better than those in Laos, and (frogs and insects notwithstanding) altogether more suited to On the Road journeys.
Returning to the banks of my old friend from Laos, the Mekong, I approached Kratie, where I followed a little road along the great river to the cities of Kampong Cham (where my route hooked north) and Kampong Thom. I drove north almost to the Thai border and the famous Preah Vihear temple, before continuing to Siem Reap and Angkor.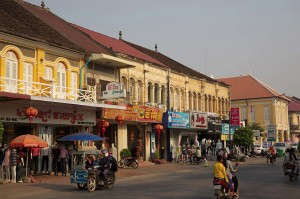 From Siem Reap, I went on to Battambang, with its beautiful French colonial buildings. Although it is Cambodia's second city, Battambang still feels like a country town, an atmosphere that I loved.
My next stop was Phnom Penh, which surprised me with its sophisticated coffee shops and restaurants.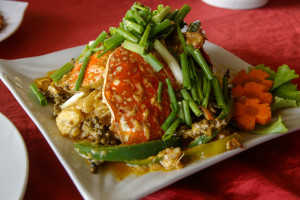 The Cambodian capital is also home to the Tuol Sleng Genocide Museum, a sombre reminder of Cambodia's sad recent past, something that's easy to overlook in this energetic city.
Then I drove southwest to Kampot, best known for its pepper – one of the World's best. I ended my journey with a feast of fresh seafood at the crab market in Kep, the smallest and least populated province in Cambodia.
---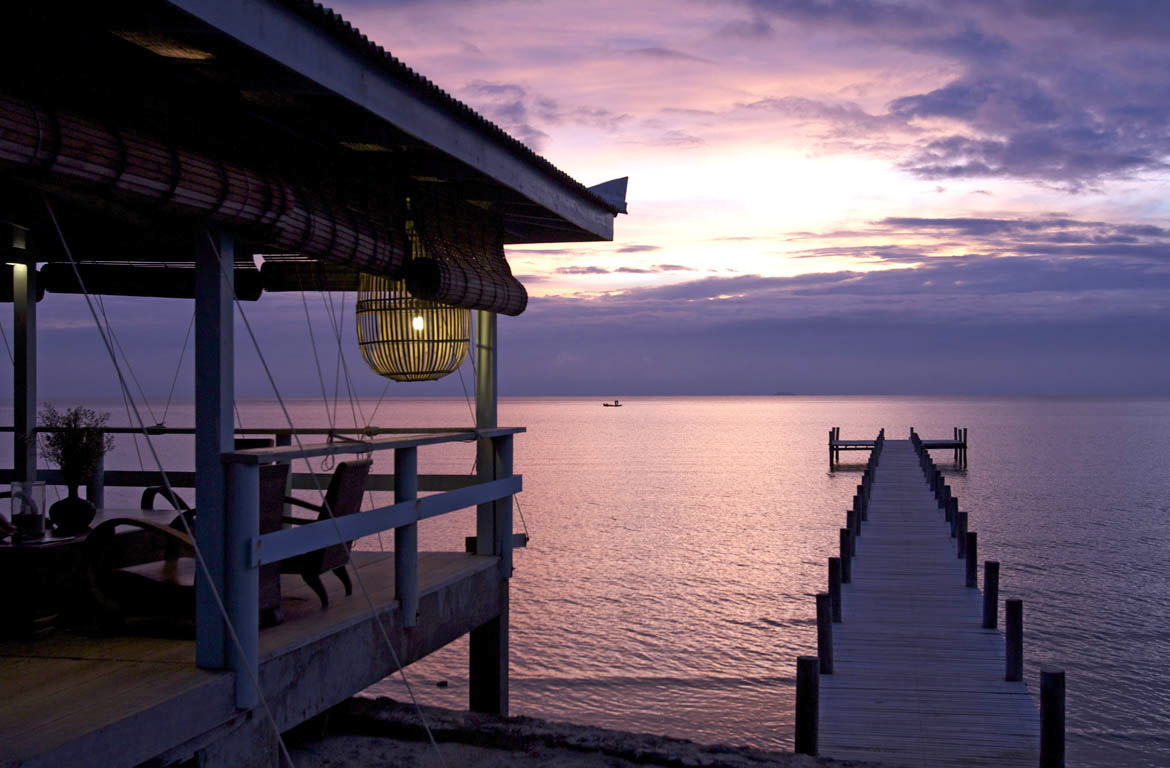 There is no place like the beach, where the land meets the sea, and the sea meets the sky.
UMAIR SIDDIQUI
And here in Kep, with a view across the Gulf of Thailand to Phu Quoc (Vietnam) my research came to an end. The itinerary I thought that I was going to create had gone out the window, but instead I was left with something beautiful and unexpected, much like Cambodia itself.
You can read more about the first itinerary we created from my research here. Fired with enthusiasm for this beautiful region, I'm also in the process of putting together a 7-day charity journey in Cambodia and a family-friendly journey in Laos. Please watch this space!

---
Discover South-East Asia with us
12-day journey
See landscapes and cultures merge and shift as you drive from snow-capped mountains and Tibetan villages to rainforest-clad hills and airy Thai temples
Enjoy wonderful hotels and the region's warmest hospitality en route
Drive through three countries (China, Laos and Thailand) and cross two borders on this beautiful journey – enjoy the very best of overland travel
Travel Dates: Dec 22, 2017 – Jan 02, 2018 and Mar 28 – Apr 8, 2018
---
11-day journey
Watch sunrise over the Yuanyang Rice Terraces and travel through a remote but beautiful part of Yunnan on your way to exotic Xishuangbanna
Experience rich local cultures and cuisines as you travel towards Chiang Mai
Drive through three countries (China, Laos and Thailand) and cross two borders on this beautiful journey – enjoy the very best of overland travel
Travel Dates: Nov 02-12, 2018
Please follow and like us: